"My experience around this game was just phenomenal"
Mark Streed, The Dice Tower
WHAT'S IN THE BOX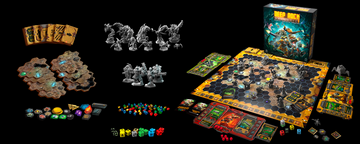 1 game board
14 engraved dice
115 linen cards
120 tokens
45 minerals
1 swarm threat marker
40 health and damage tokens
1 rulebook
1 mission book
43 cave segments
4 double-layered player boards
4 special miniatures
4 unique dwarf miniatures
38 glyphid miniatures
7 stalagmite miniatures
Highly-Detailed Miniatures
The Deluxe Edition contains a total of 49 miniatures. 4 dawrf miniatures, 38 glyphid miniatures, and 7 stalagmite miniatures. The glyphids are terrifying and ready to slash and dispose of the players! Prepare yourselves...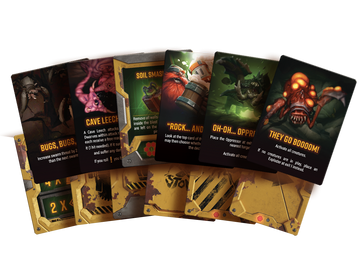 Unique game cards
Swarm cards, event cards, Rock & Stone cards and a ton of content. With 115 linen cards lined up for gameplay, you'll receive amazing illusttrations, great challenges and exciting gameplay adventures.
EXPLORE THE MOOD UNIVERSES
No matter what mood you're in, we have a board game or a novel that will suite your needs!
From thoughtful strategy games to cinematic novels, we have something for everyone.